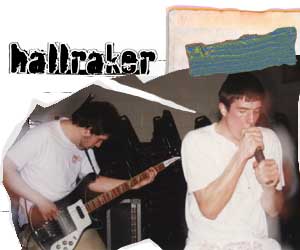 Mr. Jim Shea kindly hooked me up with this little biography (autobiography) on the raker.
Pion Guitar Beasl voice Bev drums and B Murray on bass. This is the way it started. About 2 1/2 years ago they all came together to play some good hardcore, in a scene that has lost some of the energy that it once had, the energy that had attracted us to it. After their second show Murray moved back to California. That's when Pion came to me. This was just under 2 yrs ago. We had a brief stint w/ a second guitarist and recorded a demo. Mike (Manix of Ellington Records) heard the demo and decided to press it to vinyl, this was the Sessions 7". Shortly after this we recorded the full length for Ogre (Scott Lee of Sike Records). Due to various reasons it took about 8 months to get out. This was last October maybe. since then Bev has graduated gone the way of Brian Murray, to California, to look for a forestry job. This obviously is when we picked up Glen. And we are about to release a new 7" on Phyte with two songs recorded with Bev and 2 with Glen. Over the years we have played alot of shows mostly in Western MA/CT but we have made our way around, and we have played alot of shows with Line of Fire. In the future for Hallraker, I hope we keep playing and keep it interesting.
Unfortunately, Hallraker has since disbanded. Jim Belisle took the same path as Chris Murray and moved to California. They played their last show at Infinities in the summer of '98.